Web Design and Development
Destination Graphix is your one stop source for Austin web design services, including web development, search engine optimization and online marketing. As an established Austin web design firm and award-winning greater Austin marketing company all of our services are designed to support your specific off- and online marketing goals. That means we help you adapt and integrate the right products, services and strategies to best achieve your company goals and revenue objectives.
In 2011, we changed our web design packages to include the key ingredients required to ensure your website is ready for online marketing in your local market or niche. In doing so, we also changed our primary design platform to the most powerful and highly marketable content management system available on the planet -- WordPress.
This change, to our business model and local Austin web design services, is a huge benefit to all business owners -- especially those with little to no web development, design and online marketing knowledge. It gives you an online marketing edge (what we consider to be standard), greater ownership and control of your website maintenance and growth, and eliminates the need to purchase additional software or proprietary licenses.
Custom web development, design and applications outside of WordPress are still available upon request.
To get started, request a Free Web Design Strategy session and quote today. Call 512-260-7886 or email us.
Mobilize Your Business with
our Web2Mobi™ Services
Everything is going mobile! Fifty percent of American's have smartphones and one out of three searches is Local. And those numbers will increase year after year. Yet studies show 61 percent of mobile users say they will not return to a site a second time if they have trouble accessing it from their phone. And 40 percent of users admit to visiting competitors when a company does not have a mobile friendly site.
Which site would you visit?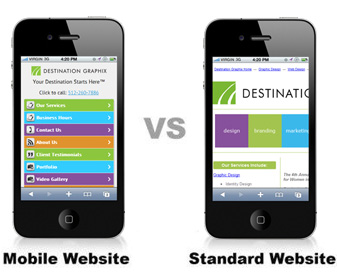 Our mobile websites help you reach ALL mobile searchers because they are designed to work on ALL phones. And while Apps are hot (and thousands are available), most small businesses will do better with a mobile website than an App.
Our Web2Mobi™ sites:
•  Compliment your existing site
•  Work on ALL phones
•  Use Easy 'Touch' navigation users like
•  Install on your existing site
And you own the site and files!
The information and user experience most mobile users want from local businesses is quick access, easy navigation and condensed information. As a result, most small businesses do not need the expense of a special .mobi domain name or extra mobile hosting.
For businesses requiring more extensive mobile analytics and reports beyond Google's capabilities for their Mobile Marketing, we offer hosted, nontransferable mobile sites for a monthly fee. These sites include hosting, updates and monthly reports. 
Note: A .mobi domain is recommended, however, if you plan to do a lot of mobile advertising.
Download our FREE Mobile Web Design report to get started. Request a Free Web2Mobi™ consultation when you're ready. We're here to help and can answer all your questions before you mobilize your site.
Build Traffic to Your Web Site
The internet is ultra competitive today. The days of "build it and they will come" are long gone. So are many once popular online marketing strategies. And Google is not the only place customers are looking for you. An online presence is only the beginning. You and everyone else need online authority, social proof, Google Places tied to a well-ranking or optimized website and review management to get search engine and consumer love and to increase online visibility, traffic and leads. While you can exist without a website by using and marketing a Facebook page, the majority of customers are still searching for you on Google and increasingly searching for you on the go using their phones instead of a desktop or computer. Traffic to your website is centric and critical to your online success as well as your company goals and revenue objectives.
We offer the most effective internet marketing services available and assess each customer's web presence to identify the right strategies to meet your specific goals. Cookie cutter internet marketing plans waste precious resources, and so do unnecessary products and services companies want to sell you. Because we're experts at branding and marketing, we guarantee to look at the big picture to solve your marketing challenges, eliminate sales barriers and help you open new markets. In other words, just because we do web design doesn't mean we're going to sell you a website or push a redesign if there are other options.
Download our FREE SEO Basics report to get started and request a free online marketing consultation when you are ready. We will be happy to answer to your questions and concerns before you invest in SEO or any online marketing service.
Featured in the National Website Design Directory
NOTE: WYSIWIG (What You See Is What You Get) site builders are great for do-it-yourself web designers. However, the code across the board is inferior to a web site programmed using pure HTML, XHTML and CSS and is typically not considered to be standards-compliant. It has been our experience that when a WYSIWYG- built web site requires maintenance, new code or scripting is required. Destination Graphix only supports WYSIWYG-built sites in an HTML editor, not its native software.