Driving Success by Design™
You are probably familiar with graphic design products such as logos, brochures, business cards, newsletters, postcards, posters and print ads. What you may not be aware of are the categories these products fall within or know how valuable they are to your business, marketing plan and long-term success. They are also vitally important to your customers.
Identity design answers:
who…what…where and how to contact you and is best explained as the elements that tell your customers, and the world for that matter, how to recognize and remember your business, where you are located and how to contact you. Possessing Gold, A Lesson in Business Identity by our creative director Gabrielle Melisende explains business identity in greater detail.

If you need a business or product logo designed, business cards, stationary or a company brochure consider the proven expertise of Destination Graphix to help you establish a solid foundation for your business's identity and success.
Advertising design answers:
who…what…where…when…how and why to purchase from you and contains your business identity and adds ad copy to stimulate consumers to contact you (at the very least). All marketing collateral pieces, print ads, posters, direct mail of all formats, flyers, sales sheets, banners, vehicle signs, even clothing and promotional products are forms of advertising design.

You rarely get a second chance to make a good first impression. Your advertising design is no exception. Let us show you what we mean by driving success by design™ by designing your next print ad or postcard.
Package design answers:
what…why and how a product or service can be beneficial to the consumer and may be a label on a product or the container housing the product for sale. Package design allows you to develop an identity for the product and often includes company identity and advertising design.

Identity design and advertising design are equally important to consider in the development of your packaging design. Your company's identity may not be the selling feature on your product. For this reason, Destination Graphix recommends you develop a clear identity for the product or service you are selling before designing its packaging.
Publication design allows you to educate, promote and sell to consumers, members and employees and is a highly effective, proven, marketing communications tool. Newspapers, magazines, directories, catalogs, annual reports, newsletters, coupon books and pamphlets are all designed to educate, promote and sell to its intended audience. Publications as a marketing communication tool can help you build relationships with your customers and members as well as sell.
Web design alllows you to promote your identity, advertising and publication design to a global market and can include ecommerce. In today's market it is expected that your business, products and services can be found on the World Wide Web (also know as the Internet). In fact, a domain name, email and web site are as equally important as a logo, business card and phone number. Web site design involves code or programming and contains web graphics. Web designers are not generally true graphic designers and vice versa. Web content is often different from your printed materials. Why? Search engine optimization, key word optimization and web site marketing, that's why.

It is recommended that you develop a web site as soon as you can afford it. Like advertising in the yellow pages, a web site is one of your best marketing strategies for both short- and long-term success. Contact Destination Graphix today for affordable web site solutions.
"The first time I saw our new Chamber of Commerce directory, I thought, 'Now THIS is Leander... fresh, professional and full of opportunity.' Thank you Destination Graphix for bringing out the best of Leander."

Vic Villarreal, Ph.D.
Leander City Council
www.leandertx.org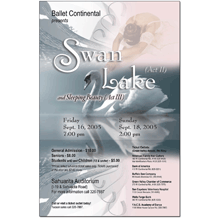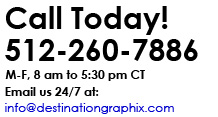 Destination Graphix under the creative direction of Gabrielle Melisende is an award-winning marketing design firm.

2007
First Place
Media Competition
Texas Chamber of
Commerce Executives

Marketing Campaign
of the Year Finalist
Stevie Awards for
Women in Business

2008
First Place
Media Competition
Texas Chamber of
Commerce Executives

American Inhouse
Design Award
Graphic Design, USA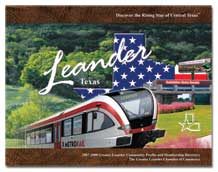 See the Leander Chamber directory in Graphic Design, USA's Inhouse Awards Annual (July 2008)
Considering a newsletter or sales catalog?

Destination Graphix has earned the trust and confidence of Central Texas businesses and organizations for their publication design. Call or email us about your next print project and discover what Destination Graphix can do for you.

Need a web site?

Consider the expertise of Destination Graphix' web designers for your web site design and other related web site services. Visit our web design page for our web site services. Also visit our sister web site www.austinwebsitesolutions.net and read Web Site Planning and Preparation for vital information you should know about web site design.